• clean • crisp • gallery wall • Piedmont • raw wood • sea salt • white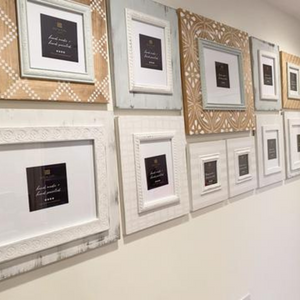 It's been a few months since we've been back in Virginia and we are finally feeling settled. Life is different from the sun and sand of Florida, but we love celebrating the joys of Mid-Atlantic life. Mountains, vineyards, seasons, and more. So to honor our new-ish home, we give you the latest Delta Girl Frames collection: the 11-piece Piedmont Collection. We see this collection shining in an entryway, hallway, or family room. She's clean and crisp, a little earthy, a little hint of color...and just timeless. All the things we love about our home. 🌄    
---
• beach decor • beauty chic • classic • gallery wall • solid white • white • white frame • white frames • white gallery wall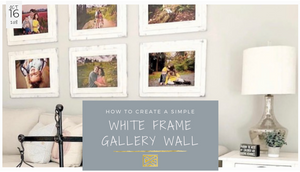 We're firm believers that more is more. Fashion, decor, coffee- with all the things. But what if there are moments in your life more ISN'T actually more? What if the absence of color- white – is actually more?!? (Too Aristotle on you first thing in the morning? Sorry 'bout that. Just get yourself another cup of ☕️. ) One of our favorite books of the past year was Emily Ley's A Simplified Life: Tactical Tools for Intentional Living. The overall theme is paring down so your life gets a bit simpler and, therefore, easier for you to manage all the things. Amen, amiright?! Seriously- cannot...
---
• gallery wall • single frame • solid frames • white • white decor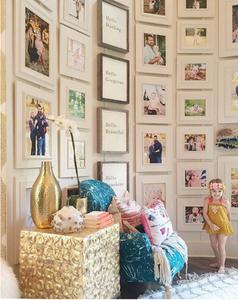 Hello Loves!  Well, well, well.  Frame of the month was such a success for all of us last year, we've decided to bring it back.  We meant to launch it on April 1st, but Saturday vibes got a hold of us.  Forgive us ok? Drum roll please!  Our first 2017 FRAME OF THE MONTH is white on white!  This frame combo is an instant classic.  She goes into any existing collection, serves as a beautiful stand alone, makes a great first Delta Girl frame and is just all around perfect.  This week…through Friday, April 14th, our ever popular white on...
---
• black • black and white • gallery wall • stair frames • staircase • stairs • white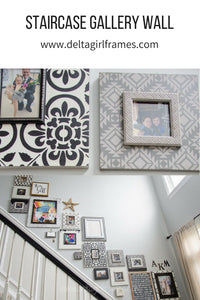 Let's just take a second to appreciate this sticker that I saw the other day at Target shall we.  I mean, can I get an AMEN?!?!?! I won't bore you with the story about how I *literally* cried the day I left my cool car and got our minivan.  And while it's for real the most practical car ever invented for this period of life and I'm sure I'll miss it one day, today is not that day.  And by not that day I mean basically I hate driving it every second. Want to hear what my hysterical sobs sounded...