• beach decor • beauty chic • classic • gallery wall • solid white • white • white frame • white frames • white gallery wall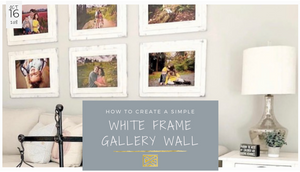 We're firm believers that more is more. Fashion, decor, coffee- with all the things. But what if there are moments in your life more ISN'T actually more? What if the absence of color- white – is actually more?!? (Too Aristotle on you first thing in the morning? Sorry 'bout that. Just get yourself another cup of ☕️. ) One of our favorite books of the past year was Emily Ley's A Simplified Life: Tactical Tools for Intentional Living. The overall theme is paring down so your life gets a bit simpler and, therefore, easier for you to manage all the things. Amen, amiright?! Seriously- cannot...
---
• black and white • classic • classic frame • floral • floral frame • modern • modern frame • sevilla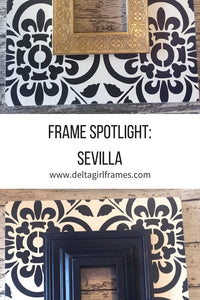 We love getting to debut new patterns and this one is kind of dreamy, Delta Friends. Meet Sevilla. She's got a bit of Spanish influence. She's fierce and fancy and we kind of love that about her. This frame shown below is a beautiful 6″ wood width 5×7 frame with our gold trim. All of the details can be found here! (THANKS TO LORI NORDSTRUM PHOTO FOR THE IMAGE SHOWCASE!) Our frames are finished with different trims and we decided it was time to showcase some of them and show you all just how perfectly each goes with a frame.  This...