• clean decor • clean gallery wall • crisp decor • easy decor • easy frames • easy gallery walls • modern gallery wall • staircase frames • white frames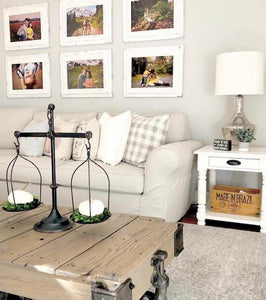 You want a stunning gallery wall. BUT - trying to decide layouts, pick colors and patterns, and pull it all together feels like an impossible task. FRIEND - we're here to help. We believe in the power of the picture frame... laugh if you will.. but we've seen just how our frames can transform spaces and bring together those favorite pieces and make the home feel like so much more.  Even more after all we've been through in 2020, we feel such passion for helping our homes really feel like a place to recharge, refresh and call home.  photo by...
---
• fern • white decor • white frames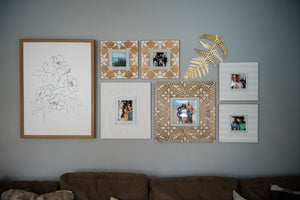 Anyone else plant obsessed? They are our [SERIOUS] love language here in the workshop. I mean... more plants, less problems. AMIRIGHT? We happened to be shopping at our local hotspot, Chartreuse and Co., when we came across this metal fern cutout. Sidenote- if you've never been to a barn sale, you have no idea what you're missing. Anyway, it was love at first site and gave us SO MUCH inspo. A neutral frame collection that captures nature at it's finest. So when we designed our latest collection, we had to give homage to this find by naming it the Fern Collection. She's...
---
• beach decor • beauty chic • classic • gallery wall • solid white • white • white frame • white frames • white gallery wall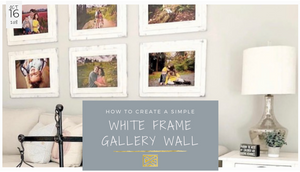 We're firm believers that more is more. Fashion, decor, coffee- with all the things. But what if there are moments in your life more ISN'T actually more? What if the absence of color- white – is actually more?!? (Too Aristotle on you first thing in the morning? Sorry 'bout that. Just get yourself another cup of ☕️. ) One of our favorite books of the past year was Emily Ley's A Simplified Life: Tactical Tools for Intentional Living. The overall theme is paring down so your life gets a bit simpler and, therefore, easier for you to manage all the things. Amen, amiright?! Seriously- cannot...