• clean • crisp • gallery wall • Piedmont • raw wood • sea salt • white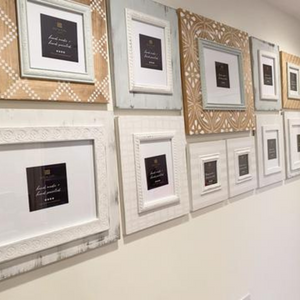 It's been a few months since we've been back in Virginia and we are finally feeling settled. Life is different from the sun and sand of Florida, but we love celebrating the joys of Mid-Atlantic life. Mountains, vineyards, seasons, and more. So to honor our new-ish home, we give you the latest Delta Girl Frames collection: the 11-piece Piedmont Collection. We see this collection shining in an entryway, hallway, or family room. She's clean and crisp, a little earthy, a little hint of color...and just timeless. All the things we love about our home. 🌄    
---
• blue frames • consult • custom • custom consult • custom frames • design consult • gallery wall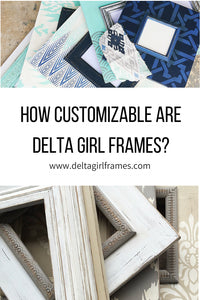 One of the most frequently asked questions from our survey a few weeks ago was "so, you say your frames are customizable, but what does that mean and how customizable is custom?" And, in all honesty, its a fair question.  Believe us when we say, it can be AS customized as we can make it. Need a specific color? Yes, we can. Need a custom size?  Yup, we do it all the time. Can you just design something for me and my space because while I love custom, I have no idea what I want? We got you covered. I...
---
• frame • frame size • gallery wall • galley wall planning • overall size • size comparission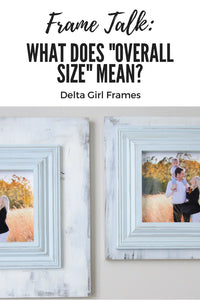 You love our frames? Check. You know just the spot (or a billion spots) for our pieces? Check. And you've got something cute to put into the frames? Check. But now you're trying to figure out what the HECK are we talking about when we list the size and 'overall size' of our frames. Oh friends, let me help break it down one glorious nerdy detail at a time. Delta Girl Frames are made of either 4″ or 6″ solid high quality pine. Our beautiful wood we have milled just for us – no Home Depot trips here – just...
---
• building a gallery wall • frame • frames and art • gallery wall • mixed gallery wall • mixing frames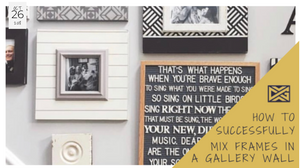 We love our frames. The ones we own. The ones we make for our customers. The ones we gift to family and friends. It's no secret our frames are something special. But what if I were to tell you that- gasp- we own frames from other stores and makers. The horror! Ha. You may wonder, ponder, and ask why when we have access to some of the most gorgeous frames. The truth is that we didn't always have walls filled with Delta Girl. We had walls filled with frames from Pottery Barn, Home Goods, and small businesses like ours. And...
---
• beach decor • beauty chic • classic • gallery wall • solid white • white • white frame • white frames • white gallery wall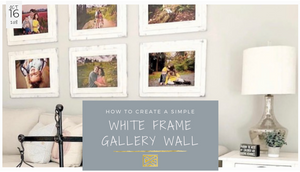 We're firm believers that more is more. Fashion, decor, coffee- with all the things. But what if there are moments in your life more ISN'T actually more? What if the absence of color- white – is actually more?!? (Too Aristotle on you first thing in the morning? Sorry 'bout that. Just get yourself another cup of ☕️. ) One of our favorite books of the past year was Emily Ley's A Simplified Life: Tactical Tools for Intentional Living. The overall theme is paring down so your life gets a bit simpler and, therefore, easier for you to manage all the things. Amen, amiright?! Seriously- cannot...