• art frame • chalk board • cork • custom frame • dry erase • map • mirror • picture frame • portrait frame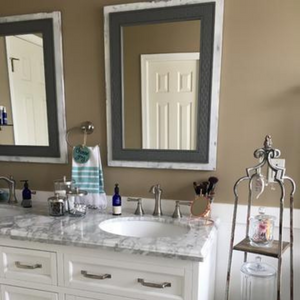 We love a multi-purpose item. Who doesn't? Heck, we're still looking for the appliance that does our grocery shopping and cooks all the meals for us. A girl can dream. Ha. In the meantime, we can introduce you to ALL THE MANY WAYS one can use a Delta Girl Frame. Yes, we help you house more than just your most prized photos. Check out the 8 uses below and comment with your favorite! 8 Possible uses for Delta Girl Frames 1. The OG: Photo It's what we're known for and the most obvious use of our Delta Girl products. We love...
---
• Big impact • chalk board • cork board • double frame • frame accessories • frame ideas • gallery wall ideas • gallery walls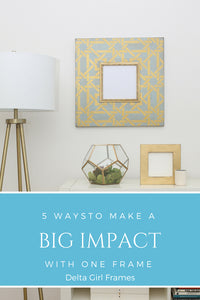 One frame can do way more for a room than you imagine. Let's look at five ways one frame makes a big impact. DON'T BE AFRAID TO MAKE ONE BIG BOLD STATEMENT.  Why sell yourself short with small photos? The bigger, the better – am.i.right? Gallery walls are great for staircases or long hallways, but don't be afraid to make a big bold beautiful statement with a single large frame. This one is especially near and dear to our heart – our exclusive Delta Girl gray wash – our special blend, each completely unique, that has that uber chic look...