• Big impact • chalk board • cork board • double frame • frame accessories • frame ideas • gallery wall ideas • gallery walls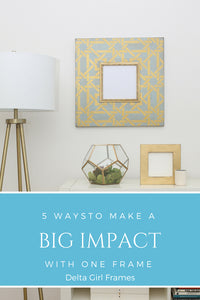 One frame can do way more for a room than you imagine. Let's look at five ways one frame makes a big impact. DON'T BE AFRAID TO MAKE ONE BIG BOLD STATEMENT.  Why sell yourself short with small photos? The bigger, the better – am.i.right? Gallery walls are great for staircases or long hallways, but don't be afraid to make a big bold beautiful statement with a single large frame. This one is especially near and dear to our heart – our exclusive Delta Girl gray wash – our special blend, each completely unique, that has that uber chic look...
---
• Canvas • chalkboard • cork board • frame • picture frame • pictureframe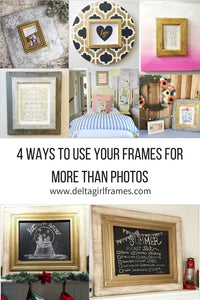 Around Delta Girl Frames, we love taking art, reinventing style and being purposeful with our designs. We're HUGE fans of the mix and match style. Getting creative is what makes us tick. Giving our frames more than one purpose and allowing them to serve your homes and your lives to meet YOUR needs is our love. While we're talking, have you checked out our Instagram hashtag #shareyourdeltagirl just yet? Show everyone the creative ways that you make Delta Girl work in your homes to suit your style and the way you live! We wanted to share a couple of super...